Project results
INDUSTRIAL ACHIEVEMENTS
Several laboratory tests were carried out to identify the best-performing formulations of SANITSER ceramic slip and glaze. The final SANITSER slip formulation contains more than 40% of recycled materials and has no quartz. This achievement is of the utmost importance from a social point of view, since the exposition to quartz is one of the main safety issues in this sector. The final SANITSER glaze formulation, fitting with the ceramic body, was created containing nearly 20% of recycled glass. It was realized in different colours and using also special antibacterial additives.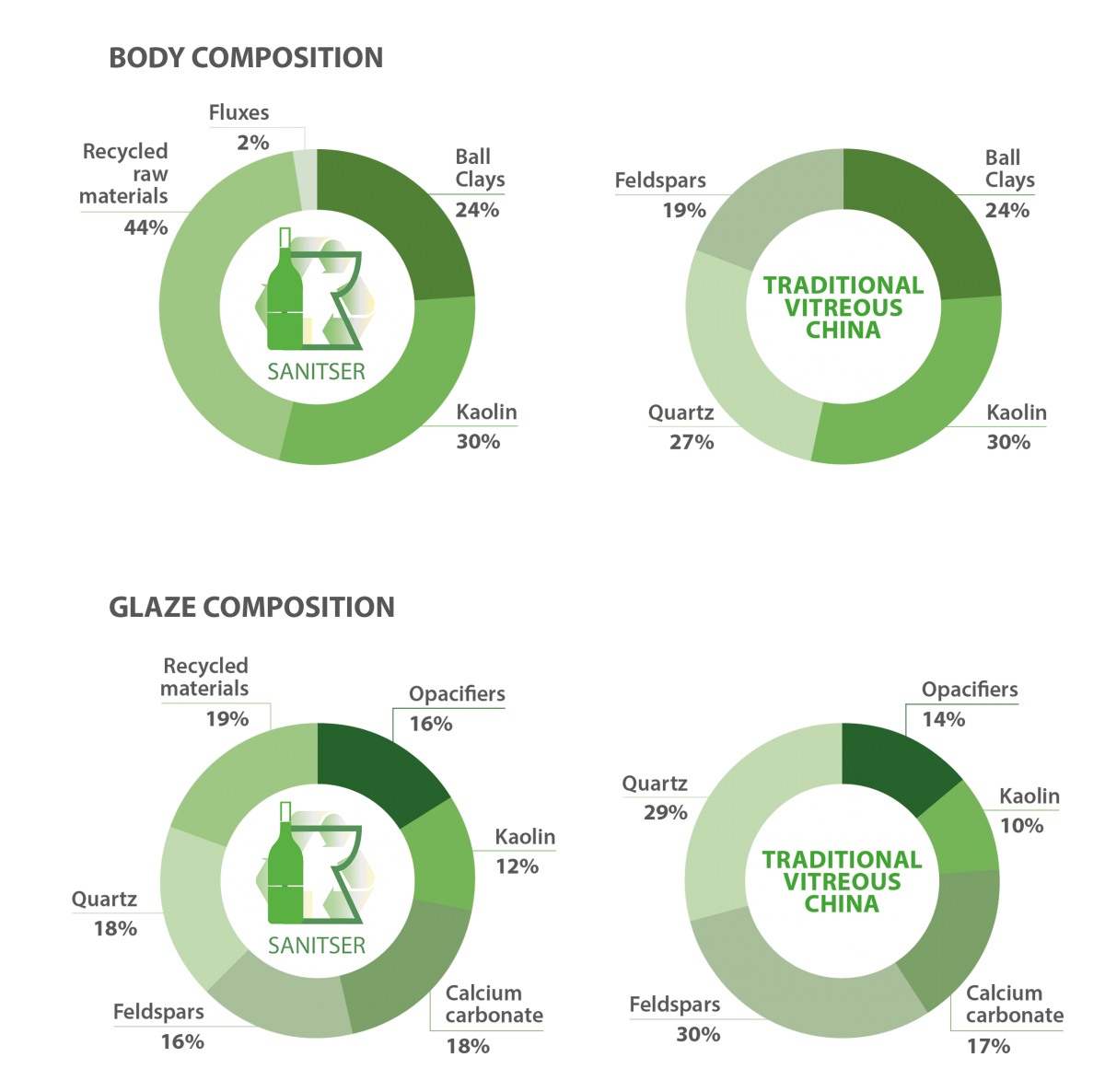 ENVIRONMENTAL ACHIEVEMENTS
Environmental benefits of SANITSER process respect to traditional technology are quantified through a Life Cycle Assessment (LCA), a scientific and internationally recognized methodology based on ISO 14040 standards. If compared to traditional ceramic, SANITSER generates the following benefits:
Per ton of product
18% reduction of firing energy consumption
45% decrease in transport activities
10% total reduction of CO2 emission within atmosphere
41% recycled material content within sanitary ware
Over Sanitser project realization
around 15 ton recycled materials used within realized project
over 2000 m3 gas saved for firing process
over 5 ton of CO2eq emission avoided from firing process
SOCIAL ACHIEVEMENTS
Social aspects related to the new SANITSER process are assessed throughout the Social Life Cycle Assessment (SLCA), a quali-quantitative recognized approach along the whole life cycle based on UNEP-SETAC Guidelines.
High reduction of risk from silica exposure
ECONOMIC ACHIEVEMENTS
Compared to the traditional technology, SANITSER process allows significant savings of costs related to raw materials and energy consumption. The comparison has been performed using Life Cycle Costing (LCC),a methodology based on ISO 15686-5.
Up to 15% raw materials cost reduction
Up to 10% energy consumption cost reduction
WEB BASED TOOL
www.sanitser-tool.eu
During the project a web based tool was designed and developed to:
Collect quantitative data according to the Life Cycle Assessment (LCA) approach

Calculate the main environmental indicators for evaluating the performance of the processes involved at different production level
PILOT PLANTS PHOTOS
MINERALI INDUSTRIALI pilot plant
SE.TE.C. pilot plant
GE.MI.CA. pilot plant